About
My work is greatly influenced by the Japanese aesthetics— balancing beauty, tranquility, and simplicity. My work ranges from wheel-thrown functional ware to hand-built sculptures, but much of my work is in tableware: cups, bowls, plates, and teapots. I strive to make pottery that has both beauty and practicality not only when being used, but also when they are arranged and stacked.

I currently work with porcelain and stoneware.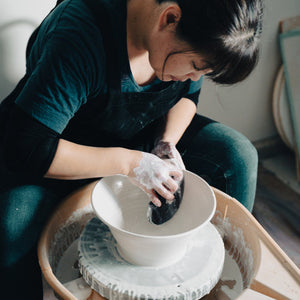 Porcelain is a fascinating material which has a translucency and changes in appearance according to the light. My porcelain ware is white and relatively simple, but I add drama and movement by mixing natural elements like the natural throwing marks with more refined cut lines in unexpected ways.

With my "Black X White" series, I've paired black glazed stoneware trays with the white porcelain, enhancing the whiteness, translucency, and seductiveness of the porcelain.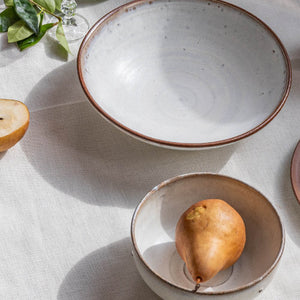 I also enjoy the warmth and beauty of Stoneware pottery. I enjoy working with the earthy rough texture and bringing out its natural beauty

Unlike industrial mass-produced pottery, with handmade pottery there is a connection made between the artist and the user. Molded by the hands of the artist, each one-of-a-kind piece has its own unique personality. By brining handmade pottery into your home, you can enjoy the journey of the piece through the hands of the artist — directly connecting you with the artist.
"My hope is to share my passion and aesthetic with you through my work, and hope it brings beauty and enjoyment into your everyday life."
Biography
Atsuko Yoshimura has studied ceramics extensively in both Japan and Canada, and her work reflects the duality of the cultures. She began her study of pottery as an apprentice with Waka Anzai in Saitama, Japan. In 1996, she arrived in Vancouver and fell in love with the beauty of BC and decided to set roots.
She enrolled in the Fine Arts program at Langara College, and received her Bachelor of Fine Arts in Visual Arts from the Emily Carr University of Art and Design.
Her work draws from the Japanese Koryu Rokuro technique combined with the inspiration of the west coast. Her esthetic is unique, with a clear vision of beauty and practicality.
Atsuko worked for many years as a Technician, Instructor, and Manager for the pottery studio at the Westend Community Centre, and also as a Gallery Assistant at the Crafthouse in Granville Island. She continues to be involved in the local arts community, with membership in the Potters Guild of BC and the Craft Council of BC.
In 2008 she took a hiatus from pottery making, focusing on raising her children. Once her second son entered elementary school in 2014, she made a fresh start.
Atsuko's latest body of work dives deep into porcelain — a medium that is sometimes considered difficult to work with. Atsuko's intricate designs and bold forms showcase her exceptional skill with clay, and her inspired sense of beauty and function.
Atsuko has produced ceramic work for galleries and craft shows around Vancouver. In 2020, Atsuko held her first solo exhibition at the Visual Art Space in Vancouver, where she showcased her "HAKUJI" white porcelain collection.
She currently creates her pottery from her home studio in East Vancouver.